Expert Stone, Concrete, Epoxy, and Tile & Grout Restoration
- Same Day Transformations
- Affordable Option To Replacement
- 100% Satisfaction Guarantee
OUR PROMISE TO YOU

With over 20 years of experience in stone restoration, decorative concrete applications, epoxy coatings, and tile and grout cleaning, our commitment towards excellence has never been stronger. Our promise is to treat your surfaces like our own and do everything possible to give you a great cleaning experience.

Call Us Today For An Estimate: 512-789-2700
UPDATE
Improve the look and function of your shop or garage floor. Heat and chem resistant.
Revive the look of any concrete surface with many coating colors and options
Safely make your natural stone look new again using the proven techniques
We restore and stain proof your grout & tile back to a uniform color again.
Call Us Today for Immediate Service! 512-789-2700
TESTIMONIALS
See Why Clients Turn On Us For All Their Hard Suface Restoration Needs.
KAREN M.

This company did an EXCELLENT job on our garage floor! They are responsible and very customer oriented as well~

MICHAEL M.

Surface Pros epoxied my garage floor and sealed my Grout. I have an all tile house and Surface Pros did a Professional job. The garage floor turned out great!. I would definitely recommend them.

JULIE H.
Josh is leader in the concrete grinding, polishing, resurfacing industry. Never ceases to amaze me in what he can do to concrete!! Great guy and company...

DECORATIVE CONCRETE
Polished concrete is becoming a popular flooring option in the Austin and surrounding areas, this is because it is the most durable flooring option, requires the least amount of maintenance, and in addition to being a high quality floor when polished correctly, it is 100% sustainable and environmentally friendly.

Any look is possible; traditional cream finish, a stain and polish, or full aggregate exposure for a unique look.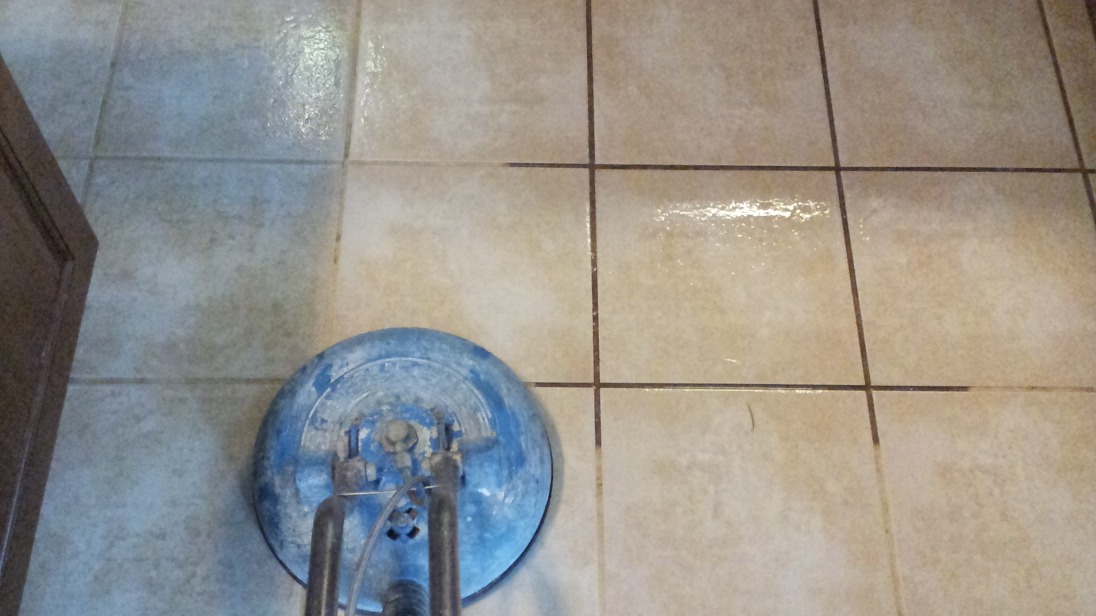 TILE & GROUT RESTORATION
You don't need to spend hours on you hands and knee scrubbing the grout lines. Our tile cleaning process is thorough and delivers lasting results. We use the latest grout cleaning science & technology for a completely brand new look! More importantly, the high-performance sealer we apply will keep it that way for years to come.

AMAZING TRANSFORMATIONS
Restore or change your grout color to match any decor. Our process makes your grout stainproof! This means dirt and spills are no longer able to absorb into the grout; making the surface easy to clean.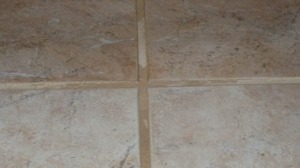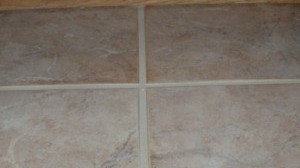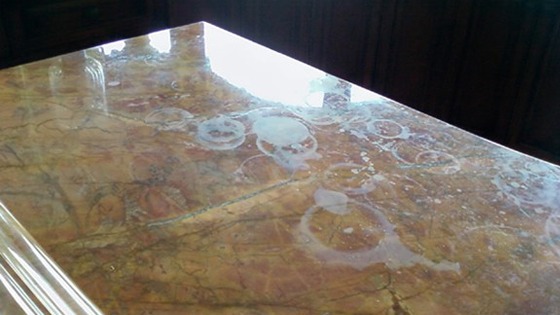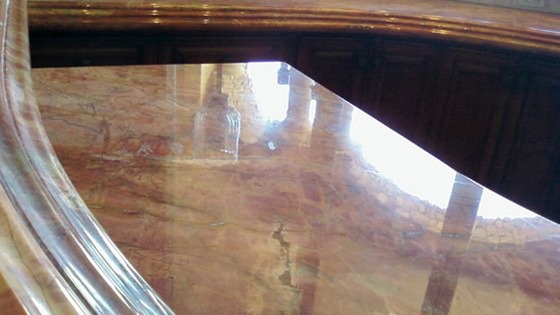 Many household cleaners and acid based foods can damage natural stone finishes. Surface Pros can quickly restore your natural stone finish to any level of lustre.
Properly sealing your stone surfaces protects them against weathering (outdoors), damaging liquids and minerals (like salt). It also helps extend the life of your investment significantly.
As with stone cleaning, selecting the right type of stone sealer and applying the right process is critical.

Clear impregnating sealers, enhancing sealers, surface sealers, sealers for indoors and sealers for outdoors—which one should you be using? We will help you determine which one is right for you based on the stone's location and what you want to achieve. This approach coupled with good maintenance, ensures a beautiful stone which will stay that way for years to come.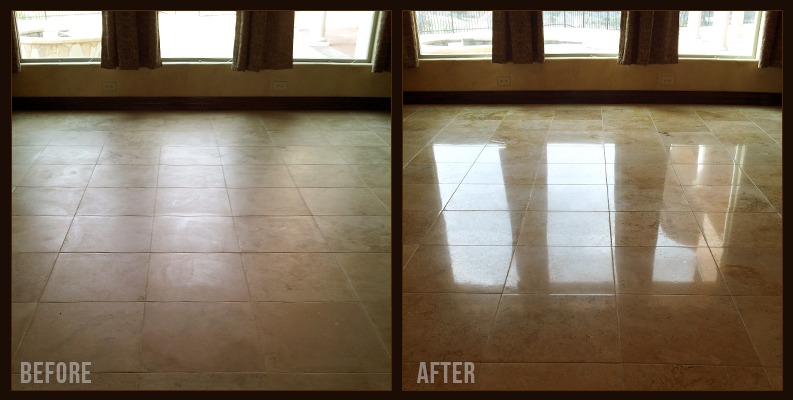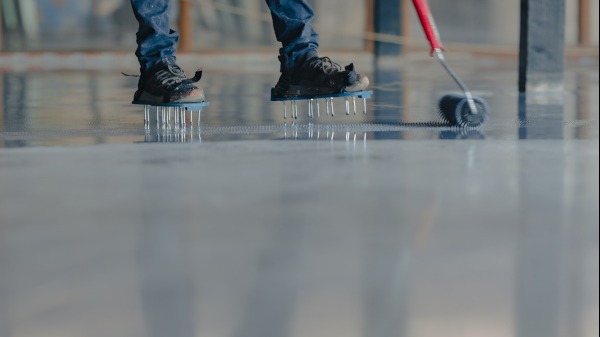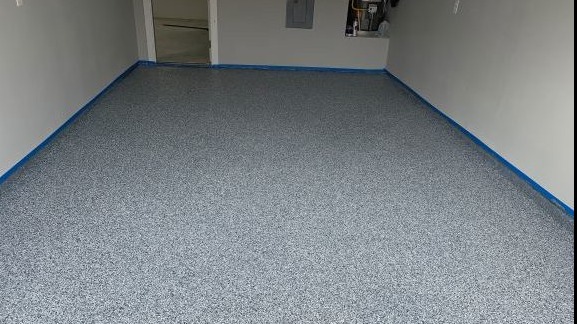 Our Process
​​​​​​​Our Epoxy/Flake system is a 2 day process and requires 3 days to fully cure after sealing. On the first day of our process we diamond grind the garage in order to open up the concrete and make it porous, we then clean the garage and remove dust, after this we will patch any holes/cracks if necessary and allow them to cure, once the garage is fully prepped we will roll down the epoxy and throw on the flake by hand. After completing this we will come back the next day and seal the garage with our 2 component sealer.

Epoxy/Flake Options
For our Epoxy/Flake system we offer 2 options, a heavy random broadcast which is our most popular and a full broadcast, for the heavy random broadcast we leave a small amount of the base coat of epoxy showing rather than completely covering the floor in the vinyl flake as we would do in the full broadcast option.

Durability
Our epoxy/flake system is one of the most durable and best looking garage floor coatings, we use a high solid 2 component epoxy that is resistant to most chemicals. and hot tire pickup
The Myths of Hard Surface Maintenance
The secret to proper hard surface care isn't as much about using the right cleaner as it is about avoiding aggressive cleaners that will damage the finish on natural stone, concrete, and tile grout. Often times, cleaners like simple vinegar are used in mop water for example will damage the finish on natural stone; leaving it dull and lifeless. The good news is that almost any hard surface can be restored back to new again using our proprietary restoration processes
Call Us Now 512-789-2700
Don't Take Our Word For It- See What Our Clients Have To Say!

We Deliver Hard Surface Perfection
Why pay more for stone, concrete and tile cleaning and restoration? Surface Pros delivers perfection the first time, every time!
Frequently Asked Questions
How to remove 'water spots' from natural stone?
These dull spots are commonly etch marks left from an acidic based product like lemon juice or vinegar. Many common household cleaners can also leave etch marks. The solution is best left to a professional.
How can I revive my worn out concrete areas?
Our decorative concrete finishes provide unlimited options. Acid stains, epoxy garage floor coatings and stamped overlays create the perfect combination of beauty and funcationality.
Can I change my tile grout color without removing tile?
Absolutely. Our grout color sealing process allows you to choose any color. This process typically leaves a tiled area looking like it was freshly installed...with the added benefit of being stainproofed!
Here To Serve | Convenient Hours
Office Hours

s
Monday 8:00AM-6PM
Tuesday 8:00AM-6PM
Wednesday 8:00AM-6PM
Thursday 8:00AM-6PM
Friday 8:00AM-6PM
Saturday 8:00AM-1PM
Sunday Closed